15th August 2011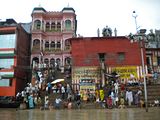 Got up at 5am and packed quickly as I had to catch a train later and didn't know what time we would be back from the city. The boat ride was ok, but it had rained so much that the Ganges was very high so you couldn't see the Ghats very well anyway. There was a lot going on at the time with people doing their morning rituals and the cremations happening. I think the boat ride lasted about half an hour.
Then we saw a cremation and someone explained all the process to us. There are two Ghats where they do the cremations and they burn more than 150 bodies at each some days! And the bones all go into the Ganges.
Christine and I went and had breakfast and spent the day exploring, it was great to have some decent conversation as I've had a day or so without good company. Found a nice park and shopping mall where we had lunch.
Later at about 17:30 we went to watch a ceremony by the Ganges (I'm pretty sure it was lead by Louis Theroux, second from left in picture) where a troop of monkeys and hundreds of people arrived to watch. It was a great way to finish my time in Varansi, when it was over I dashed off as I needed to get to the train station.
It was just soo busy when we left it was unbelievable, I took a video clip but it just fails to capture just how busy it was I think!
I had booked a sleeper train from Varansi to Chennai, this would be a 36 hour train journey! Longer than all the trian journeys Ive taken in the last few years added together for sure.
I had no idea what platform the train was coming in on and all the train station staff were really unhelpful! Eventually someone told me platform 3 and 4 which filled me with confidence. When it got closer to arrival time I found out it was platform 4 but then it changed to platform 3 at the last minute! I bumped into a German couple who were having similar issues with unhelpful staff so they asked me, lol. I tried to help them out before diving onto my train.
Got a bottom bunk this time and not by the carriage door! Hopefully it would be a better a journey!