August 2nd 2011.
5am tuk tuk ride to train station, 2 hour train journey to Agra - city of love :)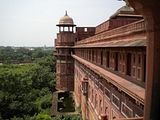 After checking in to our next hotel we visited
Agra Fort
which overlooks the Taj Mahal. The Agra Fort is huge, very tranquil place with amazing architecture including several palaces within. Shah Jahan (who built the Taj Mahal) was imprisoned here with a view of the Taj by his own son to prevent him having any more sons so he could become emperor!
Head over to Wikipedia to find out more!
After lunch in a local restaurant we had a tour of a carpet factory where they make hand made carpets, Kanu carpets. Would never have thought of doing this but actually was quite worth a look, saw them making the designs on graph paper to give to the local villagers who spend months on a loom making one carpet from the finest wool, the cleaning and finishing process. They offered us chai massala and showed us the finished product, I walked barefoot on the carpet - it was super soft. Very expensive though!
Later we visited the
Taj Mahal
. Quite a few touts and beggars near the entrance. You aren't allowed to take much in to the Taj, no bags or phones or anything, etc. Had to convince the guards to let me in with my GPS but wangled it :)
Once inside the grounds of the Taj Mahal it blew me away. After we looked around it for a couple of hours or so I just sat and stared at it for ages, Ive seen pictures but being right there was incredible - if you get the chance you must see it with your own eyes. Even the guy who sat near to us and threw up in a tiny little bag couldn't ruin it - poor bugger.
Went to another great restaurant for dinner with everyone, had drinks back at the hotel and chatted for a while before crashing out. Not much sleep before the early start in the morning - doh!
View Larger Map