August 3rd 2011.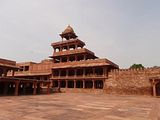 Today we went to a village called Karauli via
Fatehpur Sikri
"ghost town". I was still half asleep when we got to Fatehpur Sikri and left my camera and GPS in the minibus - Doh! I stole pics from Brian and Tegan though :) I was very impressed by the 5 tier palace there and the huge king size bed for the king and his selection of ~400 concubines. The view across the surrounding country side was breathtaking and the courtyards and palaces were covered in intricate carvings.
There is a mosque there which we also went into, after we shook off the many children trying to sell us all kinds of things including dodgy batteries and fake sdcards. Once you tell them no enough they divert to talking about cricket, they told me they thought English cricket is very good - I have no clue but hey :)
As we got back on to the bus I saw my first rain storm, it rained like Ive never seen but the guys assured me that was nothing.. ace! They don't call it monsoon season for nothing.
Stopped at a hotel restaurant next as we had another 2.5 - 4 hours journey. Chicken curry, rice, roti, coke, 1l water - £3.92. There were some guys in the restaurant painting the ceiling, no ladder, just tables stacked up - genius! No health and safety here :)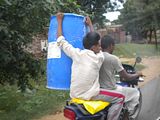 On the drive we went through some very non touristy villages, lots of people staring at us white guys. Didn't know which side of the minibus to look out of at times, so much to take in!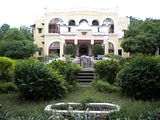 We got to Karauli and went straight to our hotel, well.. palace.. We were staying at
Bhanwar villas palace
- it really was paradise, I wanted to stay forever! My room on the ground floor opened up into a beautiful garden. We had a tour of the palace grounds before taking a walk through the village to the temple and saw everyone congregate for prayer time. I would never have done this if I was not on the tour, I'm not religious but it was a great thing to see. An old guy came up to me with his tiny little daughter and wanted her to shake my hand. We didn't see any other westerners in this village.
The walk through the village made you feel a little like a celebrity, many people staring, saying hello, kids gathering and waving.. you cant exactly blend in when you're a 6 foot 3 white guy! There was much poverty here but everyone seemed very happy, holding hands and smiling.
Bizarrely, I heard the music to one of my favourite arcade games, Metal Slug, I looked around and to my amazement saw 3 young kids playing Metal Slug on a beat up old arcade machine, when I tried to take a picture they all shoved each other and tried to get in shot :) The pic came out blurry but how cool is that? :D
Took a video of the tuk tuk ride back from the temple to the palace along the way we had walked, but it doesn't really convey the craziness, you have to be there and fear for your safety to really appreciate it (even though after a couple of times you're fine with it!). We did almost crash into a cow though!
Dinner at the palace was a buffet of vegetarian and meat dishes; spicy tomato soup for starters, a dahl, vegetarian koftas, an onion and chilli dish and a chicken curry, bread pudding for desert. I really enjoyed trying the local delicacies. The young kids that work here gave a brilliant service to us.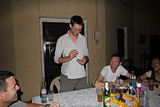 Drank beer and played cards (and laughed at my amazing card shuffling skills) in the garden til about 3am, still incredibly hot at that time, the heat never gives up. The game of chase the ace became chase the geek as I always seemed to get the worst card every time and then we played "
spoons
" which was hilarious, we only broke one glass so all good, Anuj said its good luck, lol.
View Larger Map