August 5th 2011.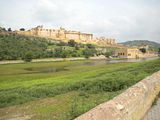 Today is a free day, so we hired a tuk tuk for the day. First we went to the
Amber Fort
. Another crazy huge fort with some cool geometric gardens and great views. When we were waiting to leave the Amber Fort some guy wouldn't stop pestering me to buy some hand paintings and started trying to barter for my hat.. "how much was your hat".. "I give you 3 paintings".. he was so persistent, they were terrible paintings.. master sales person (look out Simon Smith!) I didn't give in and he kept following even when I ignored him completely and he just moved on to Brian.. comedy.
Tegan bravely stroked one of the goats that was relaxing on the stairs on the way back down, right on its forehead between its horns - the goat was loving it.. so funny.
Next we stopped by the
Jal Mahal (water palace)
. Had lunch at rainbow restaurant and then went to
Jantar Mantar
(a collection of architectural astronomical instruments) which was really very interesting.
Later on some of the guys went shopping, and some of us went back tot he hotel to chill out for the afternoon. My budget is too low for shopping!
Had dinner at 7 on the roof of the hotel. Some young guys were singing and playing drums and a puppet show which was pretty funny to watch. I had a go on the drum for a while before dinner arrived which was fun. Simon recorded me playing the drums but his sdcard filled up so only got a small clip but thats cool, thanks Simon. :)
Stayed up til 4am chatting to Anuj and San, went right to the top of the hotel for a view of Jaipur by night and then slept hard!