August 6th 2011.
Had some free time in the morning before catching a train back to Delhi so went with Brian and Simon to have a look at
Hawa Mahal
(Palace of the winds) and then look around the markets. I bought a padlock for 'very good price', lol.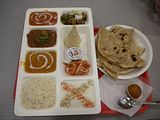 Went to a shopping mall near the hotel where the other guys bought some clothes. Very westernised mall, pretty huge inside. Had lunch in a kind of fast food place, I chose the special thali.. and it was pretty special! Its the first time Ive struggled to finish something since Ive been here - cost? 178 rupees (£2.41). Excellent food too considering it was effectively a fast food place - coming to realise that India doesn't have such a thing as bad food!
I saw a guy today who was just slumped at the edge of a very busy road (actually in the road), all skin and bone in a very uncomfortable looking position, properly weak. Cars and bikes just avoiding him. You see a lot of poverty around but this is the lower extreme. Not nice.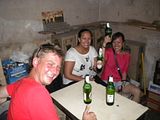 Went to the train station with 45 mins to spare. Michael, Tegan and I went to find a beer just outside the train station, stumbled across a small place selling spirits and beer. One 650ml Kingfisher cost 70 rupees (94p) here! We couldn't drink on the street so we were invited into their stockroom where there was an old table and we sat on the boxes around and drank our beer! Had to take a piss in the street just outside the shop, sorry but its blatantly where everyone else was doing it.. eep.
Had a 5 hour train journey, couldn't sleep so I chatted with San most of the way and embarrassed myself with lots of pictures of me wearing silly hats and suchlike. :) When we were playing cards the other night it turned out that San is a master at shuffling cards, and I am lame.. so I took the opportunity to learn from her and spent a while troubleshooting my technique.. lol getting there!
On the train they served us a snack and tea, then some soup, followed by curry with rice and bread! All including in the train fare.. great food too!
Got to Delhi at nearly midnight, so we all just sat on the roof of the hotel and chatted. The tour is over now, so we took each others contact details and had a few drinks before we all crashed out.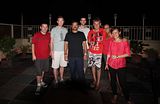 Got me some awesome people to contact in Australia now, so really looking forward to that. Thanks dudes. :)
This is the GPS data from 5th and 6th August, for some reason it didnt like the train this time.. never mind.
View Larger Map