11th August 2011
Another early morning. Had arranged for a driver to take me to Khajuraho and he picked me up at 7:30am, it was a 4 hour drive in a car without aircon! I must be acclimatising to the heat though as the drive was fine.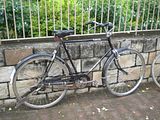 When I got to Khajuraho I was staying in a budget hotel room about 3km from the village. The hotel manager said to me "you're still young, you can walk, or rent a bike" to which I thought "yes, I'll rent a bike". He arranged for the bike to be brought to the hotel and it cost me 100 rupees for 24 hours. So off I went on the crazy Indian roads! It was ok though as Khajuraho is another small, relatively quiet place with little traffic.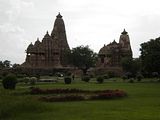 I had a map which the hotel manager had given me before I left, but it was not to scale and didnt really help at all - other than to give me false hope that it wasnt far to anything I wanted to see! I ended up having lunch on the way to the Karma Sutra temples and asking the waiter for advice.
Khajuraho has 2 main groups of temples, the western temples (most of the temples are here, and the best ones) and the eastern temples. I spent a few hours looking around the western temples which are by far the best temples Ive seen so far, its amazing how many little statues cover them all and how detailed they are. One of the security guards chatted to me about the temples for almost 1 hour!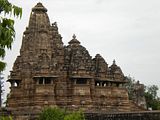 When I set off on my bike to find the eastern temples I got lost several times, the stupid not-to-scale map was laughing at me, Im sure the GPS shows my "exploring" well. I ended up heading back to the village and getting a drink, where I met some Spanish guys who had just come from the eastern temples and were able to direct me. So I got there in the end!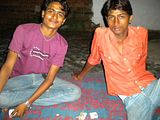 I was watching a ceremony later on and contemplating what to do in the evening when I got chatting to a couple of local farmers, Kaldef and Abbu. They wanted to practice their English :) After a while they invited me to their house, which initially I thought was a stupid idea but I felt that they were genuine people and decided to go with them. Not often that someone says "mind the cow" when you go into their home! There were so many people living there in such basic accomodation. Their mum made us some chai and we chatted for a while, sat on the roof and watched the sunset over the eastern temples and later their mum cooked a meal for us which was probably the best food Ive had so far! I think she saw I was enjoying it and kept bringing me more and more! I felt a little bad as they seemed quite poor, but they were happy to have me as a guest.
It was about 9pm when I realised it was dark and I had to ride more than 3km home in the dark, with no lights! It was a great experience spending the evening with them, they were really friendly and didnt ask me for anything (as you may suspect) but I gave them some money as they had fed me well and gave me some excellent chai. They showed me to the main road and I knew where to go from there. However, as it was sooo dark and I had no light on my bike I managed to overshoot the hotel and when I got to the train station I knew it! So I turned back. I saw someone come out of their house and stopped and asked them where the hotel was and he said about 3km down the road in the direction I was now going! So its hot and humid, Im tired and riding a bike in the pitch black about 6km more than necessary - great. I carried on riding and the man Id asked came past on a motorbike and said it was close, I saw hime stop at the hotel and he pointed it out before riding off. How kind! It was about 22:30 by the time I got in - lol.
GPS trail for the last few days from New Delhi to Khajuraho.
View Larger Map