13th August 2011
I woke up on a sleeper train at 8am when the train staff brought me breakfast, 2 boiled eggs, 4 slices of bread and a hot cup of chai. I had caught the train at 23:30 last night, heading for Varanasi. I had a top bunk - not much space but it would do for the 11 hour train journey.
Didnt sleep all that much though for the following reasons;
I'm too lanky to stretch out in the given space which I had to share with my bag.
My bunk was right by the carriage door leading to the toilets. Whenever someone went to the toilet the carriage door would open and hit my foot which had to stick out of the bed due to point 1 above.
Whenever the carriage door opened it would waft a blast of putrid toilet smell towards me to make sure I would awaken after executing point 2 above. Like a double whammy, hit in the foot and than smacked in the face.
Being on the top bunk meant I was that much closer to the roof mounted aircon and fan, which happened to be the loudest, most ill maintained fan and aircon system possible.
I had stood in a cowpat on the first day in Khajuraho, and despite cleaning it off I could still smell it on my sandles which I had stored in the stretchy net thingy - conveniently located by my head.
The train staff had been using the bottom bunk as a place to hang out and chat (perhaps because my train neighbours were a group of hot young French girls?) and those that could not sit would stand and chat right by my head - which was excellent. I didn't complain though, because it seemed like a minor thing given the above points.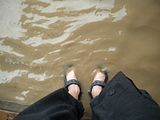 Got to Varansi at about 11am and decided to go straight out. The place I was staying was about 8km from the main city and I got a tuk tuk to drive me in. What a nightmare! Id just come from Orchha and Khajuraho which are chilled out places, Varansi was mayhem! Varanasi is thought to be the holiest place along the Ganges so I guess thats why its so busy. Its also a 3 day holiday due to independence day.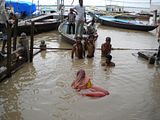 I went to Dasashvamedha Ghat by the Ganges and dipped my feet in, the Ganges is very muddy looking so that was as far as I fancied going but other were stripping off and dunking their whole bodies in. I paid some money and floated a burning candle which subsequently capsised and got washed up just where I was standing :|
Afterwards I went to the Vishwanath temple (the golden temple). Its deep within a maze of narrow streets lined with markets which was incredibly hard to navigate. I had to ask for directions several times but got there eventually! The security there is insane. To start you cant take a bag in or any phones, cameras, music players or anything. So I left what I thought was everything in a locker, and went through the guards who checked all my pockets and picked up my phone which I'd forgotten was in a pocket, so put that in locker and tried again and got through to the guards on the main entrance who found the ipod shuffle in a tiny pocket on my shorts and turned me away, so I put that in the locker and went back through first security guards again, then had to show my passport and say where I was staying to the police before trying the second security guards again! Once I was in there it was so busy with people pushing and shoving I just had a quick look around and got out asap! So crazy! I was so shell shocked after just a few hours I just went back to my room!
View Larger Map