10th August 2011
My lift to the train station arrived super early at at 4:30am! So I got a nice wake up call and had to quickly get ready to go - fortunately I had packed the night before! The train journey was ok, just fell asleep.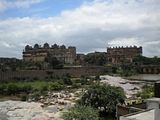 Had a 4 hour drive from Jhansi to Orchha and arrived at a really nasty Hostel in Orchha! I had a private room, with an awesome view of Jahangiri Mahal and Sheesh Mahal but inside there was water on the floor from the leaking aircon unit, the sheets weren't just stained its like someone died and rotted away on them and they had not been washed since, the bathroom was filthy and the toilet seat was taped up. When I complained about the water on the floor a man just arrived and mopped it up with a towel and then left - if it wasn't for the 1 inch gap under the door (through which all the lovely insects which occupied my room were crawling in) then I imagined I would have to swim out in the morning. None the less, you get what you pay for. So I sprayed insect repellent all over the floor by the door and made a run for the village!
Orchha is a very small place, very little traffic and people around so feels very laid back in comparison to Delhi, Agra and Jaipur!
Went straight to a restaurant as I was starving hungry and found the cheapest food so far! Curry, rice, roti and a sprite.. 101 rupees! and the restaurant was clean and the food was great! I met a couple of Italian guys in there and decided to hang out with them for the day.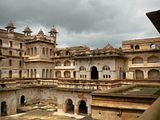 Went and saw Jahangiri Mahal and Sheesh Mahal, these are pretty huge given the size of Orchha. Wandered through the markets and saw Ram Raja temple and found the worst toilet in India (I wondered why people were just going to the toilet near it rather than inside, until I got close and saw the state of it and almost vomitted at the smell).
We planned to go to the other side of Orchha but it started to rain really heavilly so I didnt go, the path that lead over the river to the other side was flooded and the river was rising so I took shelter and chatted to a couple of locals for a while until it was possible to dash back to my room.