13th and 14th September 2011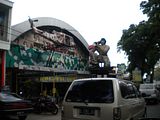 We spent a couple of days in Bandung eating and shopping, although I didn't buy much since I have such a tight budget but it was fun seeing all the Indonesian markets and malls anyway. Most things are very cheap in Bandung. Found a few arcades and played some games too.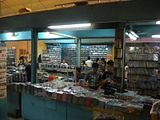 Since they dont really enforce copyright law in Indonesia they sell bootlegged everything! Clothes, shoes, DVDs, software, anything you want basically. We went to a bootleg DVD market and bought about 40 DVDs between us for about 12 quid, about 30p each! They even have a piracy rating that tells you the quality, like full DVD copy with menus, partial DVD copy (movie only) or cinema rip, etc. The market was piled high with DVDs and teaming with different vendors.
We went to the BEC (Bandung Electronics Center) which is a huge mall just for geeks, only electronics shops are in there and you can buy all the latest technology. You can even walk in and get your ipad or iphone jail broken, or your game console cracked and buy all the pirated games you want all for very cheap - crazy.
Tomorrow we are leave Bandung heading for Balikpapan via Kediri so Dee and family can visit her grandparents enroute.
Bandung is a beautiful city, very clean and lots to do. We had a great time there for a few days. Here are a couple of pictures taken around the corner from the house I stayed in.