30th August 2011
Moving on to Goa today. Caught the train at 10:20am, its a 17 hour journey. Considering I did a 36 hour train journey a few weeks ago I thought this would be a piece of cake, but it was actually pretty hard to deal with and seemed to last forever.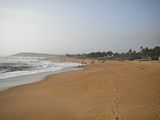 I was a little paranoid about missing my stop so I asked "train guy" to wake me before we got to Madgaon station (Goa) which according to my ticket would be 5:30am, but he said we would arrive at 7:30. I still set my alarm for 5am though, but when it woke me up I dozed off and woke again at 6am as we were arriving at a station. I asked someone what station and they said Madgaon, so I leapt out of bed (well, what feels like a plank of wood) and departed the train - thanks "train guy", if I had listened to him and got up later god knows where I would have ended up.
Someone told me that Calangute (North Goa) is good for some beach action and the guide book backed that up so thats where I headed - its quite a way from the train station though, 50km ish, so I got a taxi for 800 rupees which I thought was pretty good.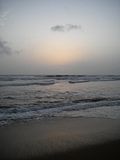 Spent a few days in Goa, heading to Mumbai on the 6th of September. Its a great place, big party atmosphere, lots of cheap beer and food. A lot of Indian people come here for a holiday as well as lots of backpackers and tourists so the atmosphere is pretty consistent. Met loads of travelers and locals. Spent most of the time on the beach (Calangute, Baga or Anjuna). Been to a few beach parties. Drank too much cheap beer (660ml bottle for 60 rupees!) Probably have to live off plain rice for the last few days in India before I go to Indonesia, lol.
Ive had fun in Goa, but its not my favourite place. You get hassled a lot here to buy stuff on the beaches. The beaches are big and theres lots of restaurants and bars which is cool, but the beaches are covered in rubbish which is a bit of a shame! :(
View Larger Map