27th August 2011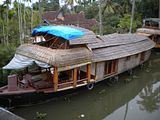 Made my way to Alleppey by taxi as advised by the guy at the hostel who said the houseboat will be hard to find! I'm glad I took his advice as it was a bit of a nightmare and even the taxi driver had to keep stopping and asking people (but I'm getting used to that kind of thing now!) Got there in the end though and the houseboat was ace! I was hoping someone else would have booked the other room on the boat but no, so I had the place to myself which was actually pretty cool. A day relaxing in peace on a houseboat cruising through the backwaters!
It was such a chilled out day, cruising slowly and seeing all the little houses along the waters edge where people were all washing their clothes, bathing, cleaning dishes, fishing, etc. The land and water are almost one.
Listening to Fleetwood Mack and Pulp among other stuff actually made it quite surreal.
We anchored up at about 14:00 and my private chef cooked a badass meal which was far too much for one person but I still found a home for it. Had black fish, a potato curry, chilli green beans, spicy veg, rice, and pappads! So much! Really enjoyed it though, I think they were surprised when I managed to clean up everything. :)
After lunch we continued the cruise to a small village called Kainakary where we moored up for the night and went for a walk around the village which was a really small laid back place, with paddy fields, fishermen and coconuts. Hardly saw any people. It was pretty cloudy but we sat on a pier and watched what we could of the sunset before heading back to the boat.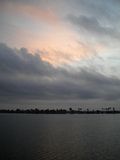 At 20:00 they served me dinner. Again, a championship sized portion. Chicken curry, what seemed liked just chillies with other spices, a vegetable curry, rice and enough chappatis to kill a man!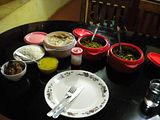 Unfortunately, after the eating frenzy was over, I was mopping up the remaining chicken curry with a chappati when I chomped down really hard on a piece of chicken bone and cracked a tooth! The tooth was already a mess since I cracked it once before years ago when I crunched down on a popcorn kernel at a friends house. It hurt! A lot! And it really put a downer on an otherwise awesome day. Thankfully there was no pain as long as I stayed away from the moving tooth fragment that had broken away from the main tooth. So I just had to grin and bear it and not eat on that side of my mouth.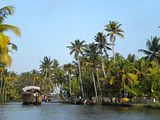 In the morning I ate my breakfast very carefully! We headed back to Alleppey at 8am and arrived there at 9am. I got a tuk tuk to the train station and headed to Varkala. While waiting for the train I sent a text to Anuj (my guide from the first week in India) and asked his advice on wether I could see a good dentist and he said theres lots of good doctors and dentists in Varkala, so that was promising!
Slightly depressed I could not be arsed to go exploring Alleppey for 5 hours til my train arrived so I sat, like Forest Gump, on a bench in the train station for the whole time, talking to various randoms as they would come and go from the seat beside me. Even met a group of guys from Exeter heading to Goa. The time went by pretty quickly.
Got to Varkala at 20:00 and asked the guy at the hostel if he knew of a good dentist and as luck would have it, he said he'd go with me in the morning because he needed to see a dentist too! :D
This map shows Cochin, the Houseboat cruise and the train to Varkala.
View Larger Map