12th September 2011
After breakfast we headed to Tangkuban Perahu, a dormant volcano. First we stopped at an amazing bakery to pick up loads of tasty treats to snack on and then we went to a place called "the peak", where you get a great view of Bandung and surrounding villages. We stopped there for a drink in a rather westernised restaurant.
Next we went to Sumur Murina ("pure well"), they have cows there and serve fresh unpasturised milk straight from the cow, yum - also had a cup of the famous and very expensive
Luwak coffee
.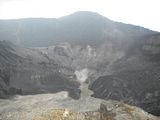 We got to the top of Tangkuban Perahu in the late afternoon and walked down to the lower crater where you can find the hot water springs and even buy eggs cooked in the springs. We saw some monkeys on the way down but they were too illusive to get a good picture!
Pete and I sat with our feet in the spring water for a while, it was really hot. One of the springs was so violent you wouldnt want to get too close as it was spitting everywhere!
After we hiked back to the car we headed home. On the way we stopped at a tea plantation! :D
We had dinner at a place called Suharti which serves top notch chicken, its far superior to the colonel's dirty chicken for sure - even the crispy coating was better.
View Larger Map