15th October 2011
Sun bear sanctuary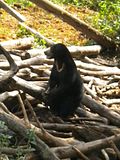 In the morning we went to the sun bear sanctuary, the sun bears are also known as honey bears because thats their favourite treat.
We arrived at feeding time. The grounds of the sanctuary are really beautiful. The sun bears get to roam freely around a big forest and you can watch them from a raised platform. The staff spread food around the forest for the sun bears to find, so its cool watching them hunt around and climbing. They are so fluffy and deceivingly gentle looking!
They are pretty skillful climbers!
Bukit Bengkirai, canopy bridge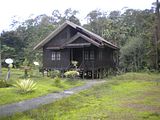 In the afternoon we went to Bukit Bengkirai, a conservation area which has several treks through the rain forest and a canopy bridge. There are some bungalows available to rent so you can spend a few days exploring the area if you like.
The canopy bridge is about 30 metres high up in the trees of the rain forest. There is a path through the dense forest that leads to the canopy bridge and then you have to climb the steps up into the tree tops. There are 4 wooden bridges between trees up there and the view is very impressive, you can see for miles. The first few steps onto the bridge are a little unnerving and the bridges obviously sway around but its ok.
I had been up there a while when some of the randoms I met down on the ground came up to join me, I looked back and saw one of the girls faces as she made her way across the bridge, she looked pretty terrified, her face said it all.
After being harassed by a huge group of school kids for my photograph I took a 1km trek back through the forest to the car and I made it back alive!
These 2 pictures are from the journey back to Balikpapan, there is miles and miles of scenery like this when you go an a road trip.
Padangnese restaurant
We had a late lunch at a Padangnese restaurant, its a siang malam restaurant which means it never closes! You get a really fast service and the food is awesome. Basically its like a buffet but they bring all the food to your table, you eat whatever you like and then they come back later and work out what you ate so they can charge you. I ate quite a lot having worked up an appetite walking around the Sun bear sanctuary and Bukit Bengkirai. :D
View Larger Map