22nd and 23rd October 2011
Pak Rachmad and Bu Indra took me for a tour of Balikpapan over these two evenings. It was good to see outside of the center of Balikpapan where there are some smaller more traditional villages.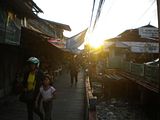 Kampung Baru (new village) is a village built on a wooden platform.. it extends over the beach and over the water, all the houses are mostly wooden, built on stilts as well as the 'streets' which people still quite happy ride around on mopeds. We took a walk through to the pier at the far side to see the view across the water. Quite a poor area.
Here are some other pictures I took while we were cruising.