4th December 2011
Met Ben and his wife Junko and went to Yokohama for the day. Explored some more huge electronics stores, saw the new Sony Vita which looks pretty nice, hard to get a go on it though due to the hoards of people stood around waiting.
There are capsule toy machines everywhere in Japan. Japanese people seem to be crazy for them. You see them outside stores, in the streets, and some department stores have dedicated areas for them..
So far I've seen a lot of large models or statues of famous characters from games, anime, etc.. Some of the ones I saw today include a gundam and Snake, from the metal gear solid games in the entrance to a huge store. Ace.
After lunch we went to the Nissan gallery where they have a load of Nissan concept cars and the new GTR, which I sat in but was sad to find there was no key in the ignition. :(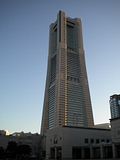 We went to the Yokohama landmark tower to see a great view of Yokohama and Tokyo, its one of the tallest buildings in Japan - you can also see mount Fuji from there. You can go up to the observatory on the 69th floor in a lift that does 45km per hour! It costs 1000 yen but you get up there in about 20 seconds. It was great timing for us to get there as we saw the view in good light and hung about for the sunset which was amazing.
When we came down we picked up some takoyaki and walked around Yokohama and saw the ferris wheel and xmas market and then went to Junko's place to have dinner before I went back to the hostel in Nishikawaguchi.
View Larger Map