29th November 2011
Last day of the road trip. We headed back to Labuan Bajo where we started. There was just one last place to stop called Counca Wulang, its a waterfall.
On the journey today we saw some guys wrestling a pig up on to the top of a bus. They had tied the pigs feet together and were trying to tie it on top of the roof, the pig was not enjoying it much. It took 5 people to get the job done. I wonder how long a journey the pig had to endure. :/
When we got to the turn for the waterfall I waited for everyone to catch up, and got chatting to a guy selling durian and pineapples at the side of the road. Impressed with my Indonesian language efforts he promised me a free pineapple when I returned from the waterfall.. bonus!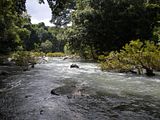 There's a little village where you have to stop and get a guide to take you to the waterfall, they said it was a 2km trek. It seemed further than that! The path went first through the village and some fields, then into the fairly dense forest.. it probably took an hour and a half to reach the waterfall in the middle of nowhere, but it was worth the effort.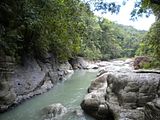 It was a bit of a game of death when we got there as we had to cross the river which had very fast currents, and this involved jumping quite far across some huge rocks! Before we left the village our guide threw his mobile phone in his house, like it might not be handy to have when we are taking ridiculous risks in the middle of a forest, hours from help. Anyway we made it, unscathed, to the waterfall.
After the guide proved that we would not crack our skulls open jumping in we all took it in turns to jump in, I think it was maybe 10 metres high where we jumped. It was great fun. We stayed a while jumping in and tried to swim to the bottom of the waterfall which was insanely hard! The current was so strong - Brian and I made it but it was so hard to stay there as the water kept knocking me over and taking me under, it was exhausting so I gave up the fight and let the current take me back to the jumping area again.
On the way out our guide took our bags back over the death jumps for us and we all swam to meet him instead of taking more risks!
After the return trek it was about 17:30 and we had completely missed lunch as we weren't aware how long this would take. We made a Hasty exit and went to Labuan Bajo, only stopping to claim my free pineapple!
After returning our bikes and checking in to our rooms we all went for a meal, drank Arak and exchanged email addresses. Everyone goes separate ways tomorrow but I will travel with Brian to Jakarta where I fly to Japan in 2 days!
View Larger Map