22nd November 2011
I had arranged mopeds for me and Alex to be delivered to Komodo Indah where I was staying at 7:30am, so we could meet Brian and Mario at 8:30am. Annoyingly the mopeds did not arrive so Alex and I had to run around to the moped hire places to get them as quick as possible, but it took a while because we couldn't find one for Alex that was in good condition for a good price. One place tried to give him one with no licence plates! It was brand new though, but a bit of a risk when you're planning on doing a 400km round trip.
Brian and Mario went on ahead and we agreed to meet them in Ruteng where we would spend the first night. Alex, Greg and I set off at about 11am when all the faffing was complete.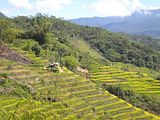 We saw some great views as soon as we set off, the roads were mostly good and really fun to drive, winding around the mountains. In parts it was like being in some kind of race because when you pass groups of people walking along the road they all go a bit crazy and start waving, cheering and shouting "hello mister" and trying to give you a high five as you go by! Especially the children who even try and chase after you.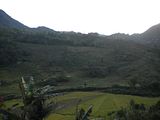 We stopped at a small village called Lempot for lunch before carrying on to Ruteng. When we got to Ruteng it was dark already and we were pretty tired so we went straight to meet Brian and Mario at the losmen they had found. It was only 77,000 rupiah for a night and I shared a room with Alex so that made it super cheap, but it was surprisingly cold as Ruteng is pretty high up. Mario told us he had fallen off his bike today but he was ok.
View Larger Map