23rd November 2011
We left Ruteng at 9:30 heading for Bajawa, it would be another day of driving.
Today it was Alex who fell off - he made the mistake of touching his front break while turning on a pretty gravely corner.. woops.. Lucky it was a tight corner so we weren't going fast and he was ok but he did take some skin off his foot as he was wearing sandals. The bike was a little damaged too. All the locals who passed were stopping to make sure he was ok, which was nice.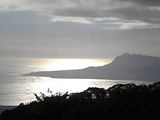 When we stopped for lunch Alex was feeling really bad, not only because he had fallen off his moped but also because he was starting to get ill. He was just crashed out sleeping outside the restaurant while we all had lunch. We tried to get him to eat something but plain rice was all he could manage. Unfortunately for him we still had a really long way to go until we got to Bajawa.
We finally arrived in Bajawa at about 5pm and found a really good place to stay for 100,000 rupiah.
View Larger Map