24th November 2011
We left Bajawa at 7am heading for Riung where we planned to go snorkeling.
Brian was the lucky winner of "fall off your moped" today - the road was really bad in a couple of places and he wiped out weaving around huge pot holes, the crash was quite spectacular and he took some skin off his foot but he was ok with it. It was starting to feel like that film "Final Destination", where "death" was just picking us off one by one..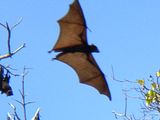 On the way to the snorkeling area we saw some more flying fox bats. In the day they are hanging in the trees, from a distance it make the trees look pretty freaky and then you get closer and realise its just hundreds of bats! The noise of the boat disturbed them so they all scattered.
The snorkeling was not as good as it was in Komodo national park. We stopped in two places, in the first place parts of the reef were damaged quite badly, potentially by dynamite fishing. The second place we stopped at was better though.
Just as we were ready to go back to Riung we saw some whales in the distance and we asked the captain to try and get as close as possible to them. We got pretty close but it was hard because they move so fast and disappear under the water for so long. I got a video of them when we were quite close though, they were absolutely massive! They disappeared again and when they resurfaced they were way off in the distance so we finally headed back to Riung. It was a great ending to the day. :D
View Larger Map