17th November 2011
Today I flew to Labuan Bajo (Flores island), from there you can get a boat to Komodo island to see the Komodo dragons.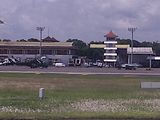 The flight was delayed by 3 hours because President Obama and all the Asian leaders were meeting in Bali today. When the flight was finally ready to go and taxied onto the runway I saw some helicopters and a jet that was presumably something to do with Obama. Managed to get a picture as we turned but it was quite far away.
Labuan Bajo airport is tiny, when we arrived there I waited for my bag, there is not even a luggage carousel, the staff just take the luggage off the plane and bring it to the door of the airport. I waited patiently as people took their bags, but I couldn't see mine. Then the staff told me there were no more bags, I looked around and half of the passengers on the plane were still there waiting like me. Somehow they managed to leave half of the bags in Bali. Will get it tomorrow.
While waiting for my bags I got chatting to Greg, an American guy from California also traveling alone, so we decided to walk into the town together and team up to make the trip to Komodo island cheaper.
We walked around the town looking for somewhere to stay, Labuan Bajo is very small and theres only a few options for cheap accomodation so we found somewhere relatively quickly and then went for dinner. We got to the treehouse restaurent at around sunset and the view from upstairs was great, overlooking the harbour. We planned to spend the next day canvassing for prices to get to Komodo island.
View Larger Map