19th November 2011
We boarded the good ship "no safety equipment" at 8:30. There were 7 of us on the boat, me, Greg (American), Alex (German), Diana (Indonesian), Joseph and Elen (Swedish) and a French guy whose name I cant remember!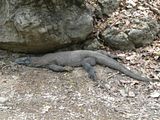 We went to Rinca island first which took a few hours to get to. We trekked for 2 hours on the island but only saw 1 Komodo dragon in the wild and he barely moved. We saw most Komodo dragons sitting under the restaurant at the ranger camp, they sit there because the smell of food attracts them but we were told they are not fed anything there, they live off the deer, bore and water buffalo that can be seen around the island.
Once the trekking was over we got back on the boat headed to pink beach, so called due its pink coloured sand caused by a certain coral in the water there. We snorkeled there for a few hours before moving on. Its the first time Ive been snorkeling and it was really great there, so many tropical fish.
We got to Komodo island at just before sunset to watch the flying foxes (bats)fly from the mangroves to Komodo island. None of my pictures came out well! We stayed there for the night. We were joined by some locals who rowed over to our boat and tried to sell us wooden models of Komodo dragons. Alex caved in and bought one, after much haggling, it was funny watching him decide which one to buy as he inspected each one and challenged the guys about quality control.
After an awesome meal we bedded down on the deck of the boat. We agreed to get up at 5am to go on to Komodo island for 6am.