17th December 2011
Went Arashiyama to see the snow monkeys, those little guys were so cool, just chilling out on the mountain side, grooming each other and not really bothered by all the people walking around.
We headed to the bamboo mangroves near by, stopping along the way for lunch.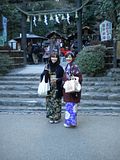 We wanted to see Kinkaku-ji temple (the Golden temple) but unfortunately it was closed by the time we got there so we went and had dinner and planned the next few days of travel.
Met another couple of Australians at the hostel who invited me to stay with them in Brisbane and Gold Coast.. :D
View Larger Map