13th December 2011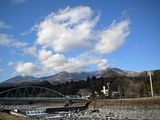 I went to Nikko with Aiden today. It was a 2 hour journey but it was worth it to see a more chilled out place! There are lots of temples here to see. We went into a couple but its quite expensive. The best one we went to was Toshogu Shrine which had a lot to see including the sleeping cat shrine. I bought a fortune, need to get Junko to translate it though as its all in Japanese.. unsurprisingly.
This temple has a modern building built around it to protect it, and then they've painted the temple on the side of the building because you cant really get a good view of it anymore.
Saw this cool phone box in Nikko made from an old cable car and todays Engrish was spotted on a locker at Nikko train station.
View Larger Map