9th December 2011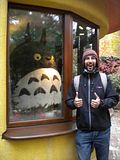 We went to the Studio Ghibli museum today. There is a huge Totoro and catbus, some really cool panoramas and loads of artwork. There is also a small cinema in there where we got to watch a short film called 'the day I harvested a star'.
You aren't allowed to take pictures inside the museum but I managed to get a picture of the catbus!
In the afternoon we went to Akihabara again to check out Hey Arcade. Hey Arcade is the best one Ive been to so far, its really big and they have loads of games, old and new. A whole floor dedicated to shoot'em ups, another for fighters.. ace! Spent rather a lot of money in there though! doh.
We went back to Junkos and had shabbu shabbu for dinner which is where you have a pot of boiling water in the middle of the table and dunk the stuff you want to eat in there until its cooked, we had meat and various vegetables. It was really good.