18th December 2011
Today Stijn and I went to Osaka. At 6:30am I was woken by some terrible singing coming from the karaoke bar next door to our hostel so I had no problems getting up early. :/
We failed so badly at using the trains today. We started out by getting an express train instead of a local train which took us way past our stop, so we had to get a train back and try again which cost us about half an hour. Then later on in Osaka we took the wrong train on the loop line which took us off the loop to Universal city, and then on our way back from there we got off at the wrong stop and had to wait for another train. Damn we were good!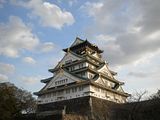 We checked into our hotel in Shin-Imamiya and headed to Osaka castle park. When we arrived there were 3 bands playing near the station, it was funny because there was hardly anyone watching the bands except this one old guy who was doing this awesome dance in front of one of the bands.. had to record him for a bit.. teehee. The third band was cool simply because they had a trombone player who was trying so hard to make the trombone cool, throwing it in the air some times and using it as an air guitar between his parts..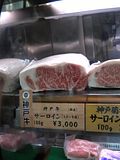 After we saw the castle we grabbed some Okonomiyaka and headed to Kobe. I had hoped to have a Kobe steak while I was there but it was just too expensive, found one for about £80! Went to a butcher and found 100g of Kobe beef for about £26! Needless to say I did not try Kobe beef that day. :(
Found a free foot spa at the side of the street in Kobe that was good considering how cold it was, sat in there for a while and got chatting to a bunch of locals for a while. Got accosted by a bunch of girls that wanted to practise their English and saw some pretty freaky looking mannequins at a wig store as we went to the train station.
On the way back from Kobe to Osaka we had yet another train fail where we got the express instead of local train again.. not paying enough attention!
View Larger Map