23rd January 2012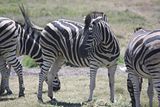 Today we went to Werribee open range zoo. This was easily the best zoo Ive ever been to, the animals have so much space to roam around and where possible (like when they won't eat each other) they are sharing the same space.. For example zebra, rhino and giraffes all living together and playing nicely.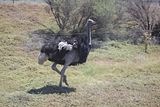 You can go on a kind of "safari" tour, where they drive you around the different areas of the zoo and you get a real feel for how much space the animals have and see some really cool stuff. The tour takes almost an hour I think.
When we went they had just had 3 new gorillas arrive at the zoo who have their own little island to live on, they proved a little elusive at first but we saw them all later on when we stopped in the shade to have a drink and steak them out a little.
The highlights were the safari tour, meercats, hippo feeding time and gorillas.. not to mention the live African music being performed near the gorilla island which could be heard all round the area and the Chinese guys who had a dance off with them!
View Larger Map