14th to 17th February 2012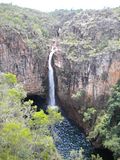 Apart from having to share a room at the YHA with 2 losers, I had a good time in Darwin. One of the guys is a 49 year old electrician who came to Darwin looking for work but just decided to get drunk constantly and had therefore failed to get a job at all, he continually talked rubbish and repeated himself a lot which gets boring pretty quickly.. He shit the bed on his last night there and woke us all up at 5am which was totally awesome.. NOT. The other guy was a total recluse and had managed to travel around a lot of Australia by catching a lift with truckers but somehow had not actually seen or done anything.. pretty special really.
Anyway, here's a few things I did in Darwin;
Went to bicentennial park
Walked through the botanical gardens (they seem to have one in every major city)
Fed the fish
Got stuck in a crazy thunderstorm near the harbour
Went to Litchfields national park and saw some huge termite mounds and went for a swim at the various waterfalls there
Did a boat trip down Adelaide river to see the 'jumping' crocodiles. They tempt the crocs with some meat on a stick (the girl with that job was called Sissy, which I found slightly amusing) and get them to jump out of the water to get it, actually they're just swimming up very fast but meh ;P
This is a video from the jumping crocs tour at Adelaide river.
After the jumping croc tour, we saw a few whistling Kites and black Kites around Adelaide river which Sissy was feeding on the way back.
View Larger Map