16th April 2012
After spending longer than I intended in Ottawa I was going to move on to Toronto but I ended up going on a road trip with Theres, a German girl who I met in the hostel I was staying at. She planned to go to Montreal and then hire a car and drive to Quebec city, Fundy national park, Halifax, Niagara falls and Toronto which sounded good to me so we split the cost of the hire car and fuel.
It took a few hours to get to Montreal by bus. When we arrived it was 27 degrees which was a bit of a shock as its been so cold. Checked in to our hostel and then we went and had a look around old Montreal for the evening.
On the second day in Montreal we went to see the olympic stadium and went into the biodome and saw some cool penguins and stuff.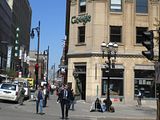 On the third day there we went to Mont Royal, situated in the middle of the city and surrounded a great park which has some nice walks and from the top theres a great view of the city. Also stumbled across the google office while wandering around the city.
Montreal has a lot of French speaking people, I didnt learn French at school and only know a few words. When I was in the supermarket buying some stuff for dinner I had a free French lesson from the lady who worked on the till, the conversation went something like this;
Me
: Bonjour
Check out assistant
: Bonjour
The till
:
<beep> <beep> <beep>
Check out assistant
:
<Something in French>
Me
: Parlez vous Anglais s'il vous plait?
Check out assistant
: LE SAC
<picks up a pile of bags and slams them down>
Me
: Oui!
I paid for my shopping, thanked the nice lady and left swiftly, armed with a new word in my French vocabulary.
View Larger Map