21st April 2012
We wanted to go to Fundy national park and the nearest place to stay would be Moncton, a 9 hour drive from Quebec city. We spent all day in the car but we were rewarded by the fact that we stayed in a really nice hostel called the C'mon Inn, its a small family run one and its really comfortable and the people were ace. Moncton was voted the friendliest city in Canada a few years ago, just thought I'd throw that in there. And the people there are all bilingual, switching from French to English mid sentance sometimes which gets quite bizarre if you dont speak one of the two languages!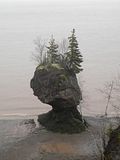 On the 22nd we went to Fundy national park and a couple of French guys from the hostel came with us. It was raining on and off all day and it was really cold but we didnt let that stop us from checking out Hopewell rocks and going for a stomp around Fundy.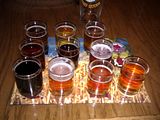 In the evening we went to a place called the pumphouse for dinner, I had an great pizza and tried the beer sampler tray from their in house brewery.. 10 beers, 7 of them were pretty good!
View Larger Map