26th April 2012
We drove from Fredericton to Kingston and arrived at the really bad 'Super 8' motel in Kingston at near enough midnight. The room had two qween size beds but had little else going for it. The breakfast in the morning was served on polystyrene plates, bowls and cups with plastic cutlery.. even the worst hostels Ive been to were better than this place and cost a lot less! oh well.
In the morning we drove just a couple of hours to Toronto where we dropped off one hire car and picked up another and continued the drive to Niagara Falls where we stayed at the Backpackers Internation Hostel just a 10 minute walk from the falls.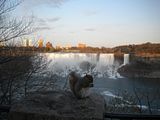 When we got to Niagara Falls the weather was awesome, great sunshine and blue sky. We went and saw the falls and walked around the whole place and had dinner at a diner which was an interesting experience!
On the 28th we went back to the falls, donned a trendy yellow rain coat and went in the tunnels behind the falls, where you can stand maybe 6 feet behind the crashing water. I enjoyed moching those who posed with the beautiful flowers and trees, and was amused by those who thought I was serious and waited patiently until I had finished before having their girlfriends copy my poses as I left!
Afterwards we drove to Niagara on the lake, a small village 15km up the road. Niagara on the lake seems like a wealthy place, lots of nice houses and cars around, very well kept and picturesque. There are lots of wineries in the area and we thought it would be rude not to buy a bottle of the local produce, which we shared in the evening back at the hostel with our dinner.. not that I really like wine.
View Larger Map