19th April 2012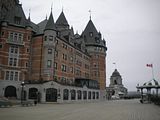 We picked up the hire car today and drove from Montreal to Quebec city. We arrived late in the afternoon and went for a walk around the old city, its kind of like being in a fairy tale and I wondered where the nights in shining armour were.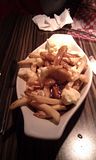 I tried poutine for dinner, its the local cousine.. basically chips with chicken gravy and cheese curds, its pretty tasty but when everyone tells you that you need to try it you imagine something a little less like hangover food (no offense!)
The second day in Quebec it rained all day and after getting wet looking around the citadel and seeing the "unique panaorama" (which turned out to be a pretty industrial looking town called Levis) we spent most of the time trying to find things to do inside including a look in the chocalate museum which turned out to be a massive let down too.. just a small room adjoined to a chocolate shop.
In the evening we met up with some of Theres' friends, the two Christinas, at a pub called Oncle Antoine where they have their own micro brewery. We tried the beer sampler tray which was pretty cool.
View Larger Map